The Mavic Air is one of the most advanced consumer drones out there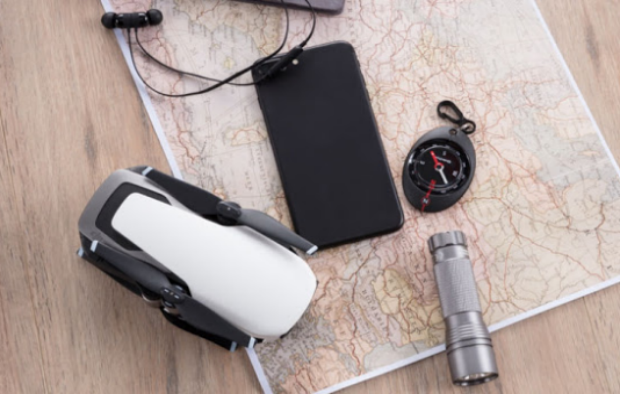 If you've heard of the Mavic Pro, you should already know that its an amazing  drone. The Mavic Air was made to be functional, but also look the part. With lines that resemble a high end sports car, there's no other drone out there with a design this good, but looks aren't what make this drone so great. 
People like camera drones that capture great videos, so instead of giving the Mavic Air a watered down Mavic Pro camera, DJI went all out. They gave the Mavic Air 4K video recording with a bit rate of 100mbps. This means your videos will have less compression than they would if you were using the original Mavic Pro. At first glance, you might think that the gimbal came strait from the Spark, but this isn't the case. It's an all new design with ND filter support and 3 axis stabilization. All of this comes down to one thing; more cinematic videos!
The Mavic Air is not a foldable Spark. This is a drone with all of the features that make it worthy of the Mavic name. Aside from the main camera, there are two front facing cameras, two rear facing cameras, and two downward facing cameras. All of these cameras are used for obstacle avoidance and advanced vision positioning. Just like the Mavic Pro, you also get dual IMUs, GPS and GLONASS for more accuracy. With all of this data to process, the Mavic Air has many different onboard chips that are designed for specific tasks like video encoding, machine learning, flight control, battery management and more. 
Thanks to the speed of the processor that handles machine learning, DJI was able to add more smart features to the Mavic Air than any other drone available today. One of these new features is called Smart Capture. It's like Gesture Control for the DJI Spark, but much better. You can takeoff from the ground using just your palm, use palm control from up to 20 feet away, control distance with two palms, take pictures, videos, group shots and more.
The bottom line is, if you want to buy the smallest and most advanced drone out there, the Mavic Air is the best drone you can get right now.
---
---
Leave a comment
Comments will be approved before showing up.